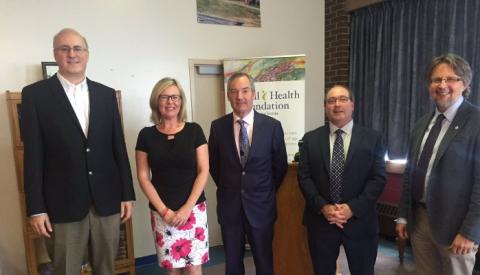 I am honoured today to have been appointed by the Nova Scotia Minister of Health and Wellness and Seniors, the Honourable Leo Glavine, to his newly launched Ministerial Advisory Panel on Innovation in Mental Health and Addictions. This is an opportunity to contribute new ways of thinking, rather than simply talk about doing more of the same. What our system needs is not simply a larger quantity of the same old policies, procedures, structures, methods, staffing, training, and paradigm. Personally, this is a chance to share my own learnings from having been part of a team that successfully led transformation of the system in one area of Nova Scotia in the past, where we achieved the best wait times in the province. We redefined what it means for a system to be client-centered...maybe you'll read the book when it comes out.
I am appreciative of this because it allows me to share some of the great lessons I have learned from listening to clients about their experiences. I can also apply the lessons from the wonderfully insightful stories and comments regularly shared with me by the many brilliant psychology students I have the privilege of teaching and learning from at Saint Mary's University, who have direct and indirect experiences with the system. These are all the perspectives that are truly the most informative of all.
The most exciting part of this opportunity is the word "innovation" in the title of this panel. That is the mandate about which Minister Glavine is passionate. Not patchwork, but re-thinking the system in the short and long term. I am confident in the leadership of the co-chairs, Starr Dobson, CEO, Mental Health Foundation of Nova Scotia, and Dr. Stan Kutcher, Sun Life Financial chair in Adolescent Mental Health at Dalhousie University. I am optimistic that this group can identify new directions that focus on creating better mental health, in addition to our traditional focus on mental illness care. Our system has made progress in recent years, under the previous Provincial strategy. Time for the next phase of even more significant transformation.
Thanks to Minister Glavine for this opportunity to contribute, and for giving this issue the level of importance it needs.